The investing case for income has never been stronger. And to help our readers identify clear-cut winners, are providing this in-depth guide on how to find the best income stocks to own right now.
Here's how the winners break down by category…
Our Pick for High Income, High Growth
InfraCap MLP ETF (NYSE: AMZA)
Current Yield: 19.4%
AMZA is a little-known energy ETF that sends a monthly check good for $1.15 per share annualized, or 19.4% on your invested dollar… and that's AFTER rocketing up almost 20% since the beginning of the year.
The secret sauce is the fund's intense focus on high current income. It's actively managed by a team of analysts who sort through fundamentals of midstream energy companies – think transportation, pipelines, and storage – to find the "cream of the crop" in income.
The ETF has rather a high expense ratio (2.39%), but that's the only unattractive thing here. Leverage is mild. It has the volume to support trading and the potential for some crazy upside ahead.
Our Pick for Best "Instant Income" Stock
ETRACS Monthly Pay 2x Leveraged Mortgage REIT ETN (NYSE: MORL)
Current Yield: 20.8%
This ETN is just wild. It can be a spectacular place to put your cash to work, depending on your risk tolerance. MORL tracks the performance of U.S.-listed mortgage REITs, which everyone knows throw off an insane amount of cash. However, the amount of the payout jumps all over the place – it's 2x the cash distributions of the index constituents (after taxes) – and has ranged from $0.04/month all the way up to $0.64 in recent months.
MORL goes ex-dividend around the 11th and pays around the 21st of each month, so your next cash injection is never far away.
Leverage is always something to be wary of, but the big risk here is volume. Only 313,000 shares change hands in an average day. Take small bites and always use a limit order to buy or sell.
Our Pick for Safest Moderate Income
The Bank of Nova Scotia (NYSE: BNS)
Current Yield: 4.9%
Around since 1832, Bank of Nova Scotia is the third-largest bank in Canada, with assets of close to $1 trillion. The bank operates 1,000 branches in Canada and nearly 1,800 branches around the world. It offers the full range of banking products you'd expect from a juggernaut in banking.
The most recent gross profit reported was $26 billion (ttm), and they wisely pay out a hefty portion. As a shareholder you can expect $2.49 per share per year – a number that has increased steadily since 2016. The payout ratio is low at 46%, so there's a good chance BNS will continue to up its payout.
Our Pick for Best "All Around" Stock
Picture the perfect stock for a moment.
What would it look like?
No doubt it would have hundreds of billions in revenue – more than tech giants like IBM, Facebook and Google.
It would probably be a leader in cutting-edge technology like smartphones, robotics, e-commerce and medical equipment.
It would have tens of thousands of unbreakable patents.
It would pay an enormous dividend.
It would be on the verge of dozens of blockbuster announcements that would send the stock higher and higher.
And most of all…
It would trade ultra-cheap – less than $3.
It seems crazy that such a stock exists.
And you've likely never heard of it.
Why?
Because it trades under a secret name.
Seriously, it's true.
My colleague – stock-picking legend Alexander Green – just gave the most shocking live presentation regarding this "perfect stock."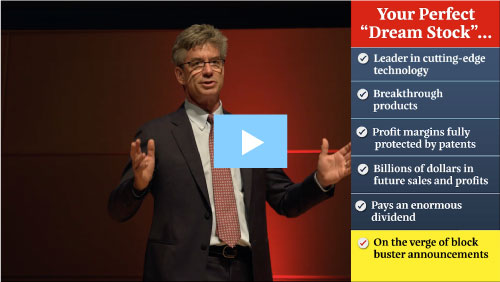 He says this single stock alone could pay for your retirement.
Go here to see more for yourself now
Financial Disclosure: The authors and company have no position in any of the equities mentioned in this article. Invest at your own risk.